In His Image
Picture found HERE
So God created mankind in his own image, in the image of God he created them; male and female he created them.  Genesis 1:27


Have you ever taken time to sit back and meditate on this truth?  We are created in God's Image.  That's mind blowing to me!  Now, I don't necessarily think this means physically.  Yes, our physical bodies are made intentionally by the Creator but I believe the Image of God is purely internal attributes.  (And yep, I could be wrong!)  We have personality traits, talents, and feelings that can mirror the Lord's.  He's the Creator of the Universe, the Perfect Being, the Alpha and Omega and we are created in His image!
I think sometimes as a woman, it's hard for me to understand how I am made in God's Image.  Throughout scripture it appears as though husbands are likened to Christ while wives are likened to the church.  It seems as though God is portrayed exclusively as a male or a father.  God interacts primarily (no, not exclusively) with men throughout scripture.  Sometimes I feel as though men are made far more in His image.  Any motherly or "womanly" tendency is not in the Image of God, only the more "masculine" portions of our lives are modeled after God.
That's not the case, though.  We ALL, male AND female are made in the image of God.  The Bible shows God with so many nurturing, "female" attributes – many of which I see in my own life or know will be a part of my life as soon as babies come along.  Let's take a look…
Hosea 13:8 – God described as a mother bear
I will fall upon them like a bear robbed of her cubs; I will tear open their breast, and there I will devour them like a lion, as a wild beast would rip them open.


Deuteronomy 32:18 – God described as giving birth
You were unmindful of the Rock that bore you, and you forgot the God who gave you birth.


Isaiah 66:13 – God described as a comforting mother
As one whom his mother comforts, so I will comfort you; you shall be comforted in Jerusalem.
Isaiah 42:14 – God described as a laboring womanFor a long time I have held my peace; I have kept still and restrained myself; now I will cry out like a woman in labor; I will gasp and pant.


Matthew 23:37 – God described as a mother hen
O Jerusalem, Jerusalem, the city that kills the prophets and stones those who are sent to it! How often would I have gathered your children together as a hen gathers her brood under her wings, and you were not willing!


This is a small selection of passages I could turn to.  It is such a blessing to be reminded that God is outside of gender constraints.  God, the Father, has mothering and female attributes that we, as women, reflect in our lives.  How wonderful, mysterious, and amazing is that?
——–
Please linkup your In His Image posts below and PLEASE hop around, gaining encouragement from one another.  Who knows, you might find your new blogging BFF and the tow of you could spur one another on to love and good works (Hebrews 10:24).  I'm excited to read all your posts!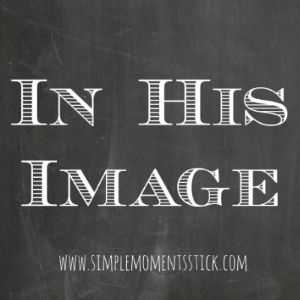 <div align="center"><a href="https://simplemomentsstick.com" title="Simple Moments Stick"><img src="http://i1355.photobucket.com/albums/q706/zanah_banana/ec16674e-941a-4e02-8b59-3a53ce445aa7_zpsa506fee8.jpg" alt="Simple Moments Stick" style="border:none;" /></a></div>
Check out one of my favorite bloggers: