A Gentle and Quiet Spirit
An old woman with white, almost blue hair leans over me, a young child.  She shakes her pointer finger at me, lecturing me about how "I need to have a gentle and quiet spirit.  The Lord doesn't like little girls to run in church like that."  Then she probably called me a hoodlum or something.
No, as far as I know, that never actually happened.  But for the longest time that's what I envisioned when I thought the idea of a gentle and quiet spirit.  That was something sarcastic, opinionated, stubborn me didn't have – and therefore, I was in the wrong.  I was sinning.  I needed to be one of those sweet Christian women – you know, the ones who listen to your problems with sweet, caring, puppy dog eyes, and then sweetly say "let's pray about it right now."  (If that's you, that's AWESOME.  I'm not saying you're in the wrong here!  I wish that could be me)  Instead, I'll listen, counsel you, swap thoughts back and forth, say something sarcastic to get you to laugh, commiserate on your pain by complaining with you, and THEN we'll turn it over to the Lord.  I honestly thought there was something wrong with me.
A few years ago, I started really thinking and praying about this topic.  I began to think about some of the great women in the Bible – Let's see…  Deborah, a prophet, led an army into battle…  Jael killed an evil king with a tent peg…  Rahab lied to the soldiers about where she had hid the Israelites…  Abigail defied her husband when he went against David…  The list goes on…  And these women were commended for their actions, not condemned.  I wouldn't classify those actions in my definition of a gentle and quiet spirit.
If my definition of a gentle and quiet spirit is wrong, then what's right?  Let's go straight to the text (1 Peter 3)…
3 Do not let your adorning be external—the braiding of hair and the putting on of gold jewelry, or the clothing you wear—4
but let your adorning be the hidden person of the heart with the imperishable beauty of a gentle and quiet spirit, which in God's sight is very precious.
"Do not let your adorning be external"  Are these verses commanding us to dress frumpy and not give a care in the world for how we look?  No!  What it is saying is that the things we care about should be the internal not external.  It is our spirit, not our body that is of value.  God looks at our heart and views it as precious.  No matter how good we try to make ourselves look on the outside, he focuses completely on our spirit.
I think these verses can be summed up quite well with 1 Samuel 16:7 – For the Lord sees not as man sees: man looks on the outward appearance, but the Lord looks on the heart.
Let's break "a gentle and quiet spirit" down and truly look at it's components (and yes, this is why it's awesome having a hubby who's learning Greek):
Gentle (Greek: praus) – forgiving, meek, benevolent, mild, gentle, humane
Quiet (Greek: hesuchazo) – peaceful, quiet, and tranquil in your existence (not used to define moments or actions)
With these definitions, it appears to me that "gentle" and "quiet" in our English language are not ideal translations for the Greek words.  The Greek is so much deeper and encompasses our whole spirits, not just our day to day actions.
These words do not imply that we women have to remain silent, pet furry baby animals, and sing along with the birds.  These words are about our deep inner workings of our hearts.   You know, what makes us tick.
In looking at my own life, I feel as though my stubbornness, opinionatedness, and sarcasm isn't in direct conflict with this idea of a gentle and quiet spirit.  Looking into my soul, the heart of how I interact with people, I can wholeheartedly say that I have a gentle and quiet spirit (or at least am growing closer and closer to having one each day).  I am loving, forgiving, gentle, and peaceful.  I strive to care for others.  I desire for my life to lead others to the Lord.
*If you want to dig into this passage further, take a look at who it's addressed to in verse 1 – Wives of unbelieving husbands.  Even though this idea of a gentle and quiet spirit relates to all of us, it's ultimately spoken to women who are desiring to lead their husbands to the Lord.*
——–
A huge thanks to Hayley from
A Beautiful Exchange
for helping pick this topic and for cohosting this month's faith and fellowship linkup!  I hope each of you head over to her blog, read her post, and stay a while!
If you'd like to brainstorm and cohost next month's topic with me, feel free to email me at susannah.kellogg(at)gmail.com
Please linkup your Gentle and Quiet Spirit posts below and PLEASE hop around, gaining encouragement from one another.  Who knows, you might find your new blogging BFF and the two of you could spur one another on to love and good works (Hebrews 10:24).  The Linkup is open until next Friday so feel free to take some time and meditate on this truth and write up your post sometime next week!  I'm excited to read what each of you have to say!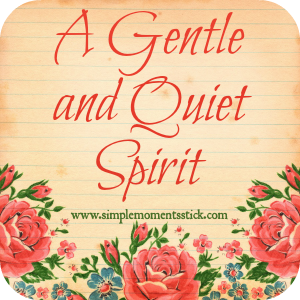 document.write(");