How to Connect with Other Bloggers
Have you ever received that one comment?  You know the one I'm talking about – it makes you feel so known and loved.  It makes you want to reach through your computer screen and hug whoever sent it to you.  It makes you feel as though this whole blogging thing is worth it.
I don't know about you but whenever I receive that comment I drop everything and head over to the blog of the person who left it.  I devour her writing, comment as much as I can, and follow her on absolutely all social media outlets available.  We becoming blogging besties and share our lives with one another.
There are only a handful of times this has happened but I feel as though I'm connected to more than a handful of bloggers.  How did I make these connections?  How can YOU make these connections
Comment
If meaningful comments are what causes you to feel connected to one of your readers don't you think that leaving meaningful comments other other blogs would help them feel connected to you as their reader?  Find a blogger you'd like to be friends with and comment, comment, comment!  It's rare when a blogger doesn't check out the blog of someone who's been commenting up a storm (with quality comments, of course) and hopefully it will allow the two of you to click!  If not, that's ok, pick another potential blogging friend and start over.  Someone's bound to want to be your friend!
Email
Bloggers can get tons of comments on their posts and sometimes it's easy to miss the fact that another blogger is commenting a ton.  If you absolutely love a blog or a post another blogger has written go one step beyond commenting and send an email!  Not only can you write a ton more in an email but it also makes the recipient feel special that you went out of your way to contact them.  Since emails lend to conversation better than comments blogging friendships can start so much quicker via emails!
Facebook Groups
Blog facebook groups are AMAZING!  Not only are there opportunities to ask questions, get feedback, and share tips but you also can get to know bloggers better for who they are, not for the persona (be that good or bad) they put out on their blog.  Some of my favorite blogging groups are
The Peony Project
(for Christian women bloggers),
Pacific Northwest Bloggers
(for women bloggers living in the PNW), and
Blog Passion Project
 (for women bloggers).
Blogger Meetups
Obviously the best way of making connections is meeting people face to face!  Find a bloggers meetup nearby or step out even further and travel to one of the big blog conferences.  If there aren't meetups nearby plan one on one meetups or start planning a blogging event all on your own.  Kelly of 
Kelly Lorene Blog
and I are currently in the process of planning a Pacific Northwest bloggers meetup through our PNW Bloggers facebook group.  It will be held in the Seattle area in April.  If you're a PNW blogger please leave me a comment or
join the facebook group
to get more information about the meetup!
Solidarity Sisters
The Solidarity Sisters is something I started a few months ago.  The Solidarity Sisters is a month long program that pairs bloggers up with one another and allows women the chance to connect and grow while making a wonderful friend!  I have bloggers of every size and niche join in on this program and do my best to facilitate growth and community in a way that is not terribly time consuming.
Are you interested in joining in this month?  Here's what you need to know…
ONLY SIGN UP IF YOU INTEND TO REMAIN COMMITTED ALL MONTH!
I intentionally pair the bloggers who sign up with one another, trying to keep women of like niches together.
I send out weekly challenges to the participants to spark conversations and collaboration that will hopefully allow them to encourage one another and assist each other in blog growth.
The time commitment is up to you!  As long as you're in communication with your partner and participating in the challenges you're doing good!  The challenges require AT LEAST one email a week to your sister but you're welcome to communicate daily or even hourly if you'd like.  😉
Are you still not sure if you want to join in?  Scroll to the bottom of this post and you'll get a bunch of links of bloggers who participated last month.  Please feel free to click over to their blogs and hopefully THEY will encourage you to take the plunge!!!
Sign ups end Sunday, January 31st at 5pm PST and I'll be emailing out matches and the first week's challenge on Monday, February 1st.
A Few Notes:
I continue to have quite a few women sign up to participate and then never get in contact with their sister.  Unfortunately, that's the way things like this tend to work and I try so hard to re-pair the participating sister up as soon as possible!  From here on out, bloggers who sign up but do not participate AND do not let me and/or their partner know they have to drop out will not be permitted to sign up again.  It's just not fair to the women who actually want to get something out of this! (You all know I'm huge on grace, though, so obviously there will be exceptions to this rule if I deem it appropriate)



If signs ups are closed but you want to be notified for next month's solidarity sisters sign up please leave your email in the comments or email me at
susannah.kellogg@gmail.com
Let's meet everyone's Solidarity Sisters!!!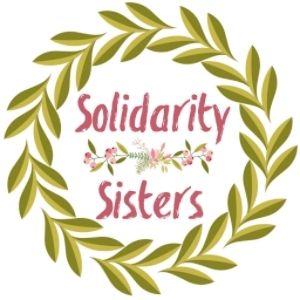 —————————————————————
Join the mailing list and get exclusive discounts to Simply You… and baby too!