Ways to Collaborate With Bloggers
Growing a blog is hard work. You can write and write while trying to get your name out there but no one seems to be responding. One of the best ways I've found to bring in readers is to reach the audience of a blogger you love, respect, and strive to be like! Unfortunately, writing a simple guest post is not enough. Of course you hope that their followers will read it, connect with it, and be devoted followers of yours forever and ever, amen but, as most of us know, that's not the way it works. Readers are jaded against guest posts and are more likely than not going to skip right over them.
Don't lose hope, dear friends! There are ways of collaborating with your favorite bloggers that actually bring results!
Swap Blogs but Stick to the Same Topic
Instead of a simple guest post, communicate with the blogger with whom you're swapping and decide on a topic that appeals to both your blog readers. The great thing about this is you don't have to be in the same niche. A food blogger and a mommy blogger can collaborate on the perfect meal for a toddler with a discussion about what makes a perfect toddler meal on the food blogger's blog (written by the mommy blogger) and the recipe on the mommy blogger's blog (written by the food blogger). A fashion blogger and a fitness blogger can do a "day to night" post about the perfect fitness gear for the day (posted on the fashion blog but written by the fitness blogger) and how to style the perfect date night outfit quickly after working out (posted on the fitness blog but written by the fashion blogger). The blog posts link to one another and encourages the readers to read both halves of the story!
Why this works: Readers are committed to the bloggers they read. They may peruse the post written by the guest blogger but will be more likely to jump over to the other blog to read the content of the blogger they actually follow. Once on the other blog they will hopefully start clicking links and getting to know a new blog and blogger!
Write a Collaborative Post
Got content for a blog post but just not quite enough? Write it with another blogger. Allow your readers (or their readers) to get multiple points of view for the same topic. Maybe have it be differing opinions – a Republican and a Democrat discussing the election for example – or maybe just expound on the same topic. Tayler from
The Morrell Tale
and I did this with my post,
Celebrating Christmas with a Toddler
. I linked to her blog frequently throughout the post in order for my readers to visit her blog. She, in turn, sent her readers to my post via her promotions on twitter and facebook.
Why this works: Once again, readers are committed to the bloggers they read. If you partner with another blogger on a post their readers will be interested! Once they have read what their person has to say they will also read what you have to say. They will get a taste of who you are and what you represent and decide from there if they want to follow you too.



Do a Blogger Roundup
Got some bloggers you love? Create a roundup post that can feature them! Email your favorite bloggers and ask them to either send you a previous post or write a new post and send it to you about a certain topic. Once you have collected the posts write up a big roundup post that highlights your friends! Don't forget to include some of your own links too! I've done some
date roundups
,
Halloween costume roundups
, and
Holiday recipes roundups
that have gotten a lot of attention.
Why this works: If you spread the love to your favorite bloggers they are likely to return the favor. When you let them know that your roundup post has gone live they are likely to tweet it, facebook it, blog about it, pin it… You know, share it like crazy! This brings their readers to your blog in herds. Make sure you have ways for them to keep clicking around your site to keep them interested!
Want to be included in my next roundup? Leave your email in the comments or email me at susannah.kellogg@gmail.com
Guest Post
I know, I know, I said guest posts don't work. That doesn't HAVE to be the case though. While guest posting is definitely the least productive of all these tips, it can still benefit you if you write a REALLY good post. Think about the blog on which you're posting. Why do the readers enjoy reading it? Why do YOU enjoy reading it? How are your blog and the blog you're posting on similar. Write a post that incorporates both the things the original blog's readers enjoy and things that make your blog unique. Don't introduce yourself until the second paragraph (or later) so you can hook them before letting them know that you're not actually the blogger they love.
Why this works: If you make sure that you write a post on the topic that the other blogger's already enjoy they will possibly decide to read it, even though it's a different author. Once you've got them hooked you have a chance to cause them to fall in love with you.
Join a Blogging Network or Mastermind Group
Networks and mastermind groups are organizations that allow you to connect one on one with other bloggers in similar niches. You grow together, encourage one another, and introduce one another to your readers. I am a part of a mastermind group on facebook with about nine other bloggers and it's been amazingly encouraging to get to know these women, their blogs, and their hearts. While my mastermind group is closed, I'd encourage you to find a few bloggers you relate with and invite them to create a group with you! Networks, on the other hand, are open for all! They are similar to blog swaps but, instead of sending goodies to one another, you're swapping thoughts and ideas. Think of them as blogging pen pals. 🙂 I host a blogging network called the Solidarity Sisters which you can actually sign up today to join! Lucky you! (Scroll down to find out more and to sign up!)
Why this works:
Becoming blogging besties with another blogger in an intentional setting helps you have a reason to promote one another! Since you're already in similar niches your readers should love their blog and their readers should love your blog!
Your Turn:
Have you tried any of these ideas for collaborating with other bloggers?
Are there any other types of collaborations you would add to this list?
Are you interested in being a Solidarity Sister for the next two months? Here's what you need to know…
**CHANGE HAPPENING** Solidarity Sisters will now be every two months instead of simply for one.
ONLY SIGN UP IF YOU INTEND TO REMAIN COMMITTED!
I intentionally pair the bloggers who sign up with one another, trying to keep women of like niches together.
I send out bi-weekly challenges to the participants to spark conversations and collaboration that will hopefully allow them to encourage one another and assist each other in blog growth. Bi-weekly challenges will be emailed out in order to give the sisters more time to work through them with one another.
The time commitment is up to you! As long as you're in communication with your partner and participating in the challenges you're doing good! The challenges require AT LEAST one email a week to your sister but you're welcome to communicate daily or even hourly if you'd like. 😉
Are you still not sure if you want to join in? Scroll to the bottom of this post and you'll get a bunch of links of bloggers who participated last month. Please feel free to click over to their blogs and hopefully THEY will encourage you to take the plunge!!!


Sign ups end Monday, February 29th at 5pm PST and I'll be emailing out matches and the first week's challenge on Tuesday, March 1st.


A Few Notes:
I continue to have quite a few women sign up to participate and then never get in contact with their sister. Unfortunately, that's the way things like this tend to work and I try so hard to re-pair the participating sister up as soon as possible! From here on out, bloggers who sign up but do not participate AND do not let me and/or their partner know they have to drop out will not be permitted to sign up again. It's just not fair to the women who actually want to get something out of this! (You all know I'm huge on grace, though, so obviously there will be exceptions to this rule if I deem it appropriate)
If signs ups are closed but you want to be notified for next month's solidarity sisters sign up please leave your email in the comments or email me at
susannah.kellogg@gmail.com
Let's meet everyone's Solidarity Sisters!!!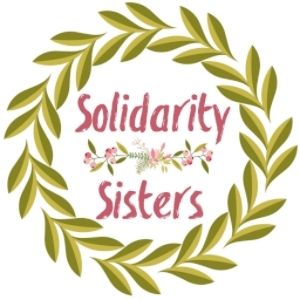 —————————————————————
Join the mailing list and get exclusive discounts to Simply You… and baby too!